Brewery Innovation Lead Matt Wisley delves in to the details behind the 3rd release of our 2019 Side Trail Series, Beyond Resin.
Beyond Resin is a detour from the steady stream of juicy New England style IPAs that have been dominating the Side Trail lineup. Our original hazy IPA, Juiced In Time, has become more readily available. So we've gained some flexibility to venture into other variations of the IPA genre.
Beyond Resin began with the template of a West Coast IPA: bright, crisp, and dry with a hop character focused on classic American hops. These hops have a pronounced pine character like Chinook, Simcoe, and Columbus. In a deviation from the West Coast style, we decided to use what we learned brewing New England Style IPAs. By eliminating the vast majority of the bitterness from the hot side of the brewing process. We're coming to realize that many beer drinkers who believe they don't like hoppy beers really just don't like the bitterness. Whereas the fruity, piney, citrusy characteristics of American hops are almost universally enjoyed.
What makes Beyond Resin most unique is a special ingredient added at the very end of the process: terpenes derived from El Dorado and Cascade hops. Terpenes are aromatic organic compounds produced to some degree by all plants. Plants evolved to excrete terpenes in order to ward off herbivores as well as attract helpful predators and pollinators. Cocktails of terpenes derived from specific plants through steam distillation or pressing are sold as essential oils. They have extremely powerful aromas ranging from pine and citrus to floral, earthy, dank, or musty. Hops have particularly high levels of terpenes, and many of these are shared with a famous sticky green cousin of hops that you're probably very familiar with.
When we add hops during the "hot side" of the brewing process while the wort is being boiled or soon thereafter, many of these volatile compounds are evaporated. Dry hops added during or after fermentation provide a fresher, more complete aroma profile. But much of these precious aromatic chemicals remain in the plant material or bind with yeast or proteins that are later removed.
We waited until after the filtration process to add the full spectrum of terpenes distilled from hops. This obtains a uniquely fresh aroma in a uniquely efficient way. The end result is a refreshing and delightfully drinkable IPA with a classic piney West Coast hop profile augmented with a full spectrum of resinous terpenes.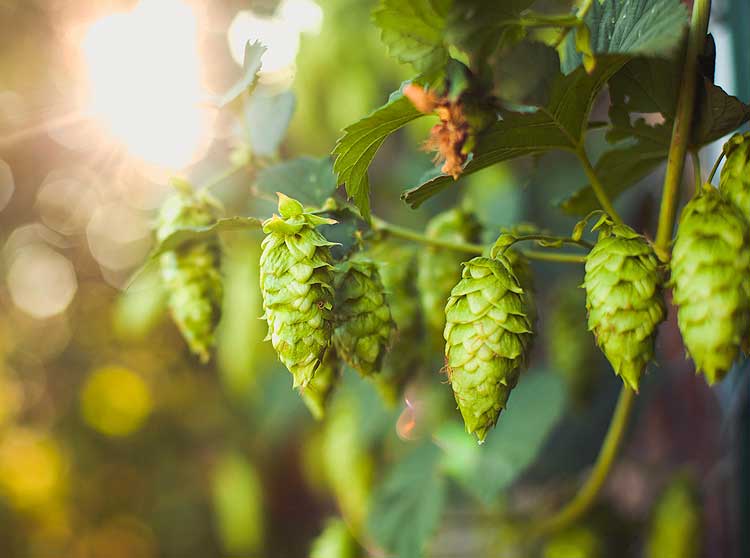 The terpenes added were derived from Crazy Horse Hops' El Dorado and Cascade hops
Beyond Resin is available on tap and in cans at all Upland locations for a limited time!
We only made 15 cases of this experimentation turned Upland favorite so grab your bottle soon before we're all out!