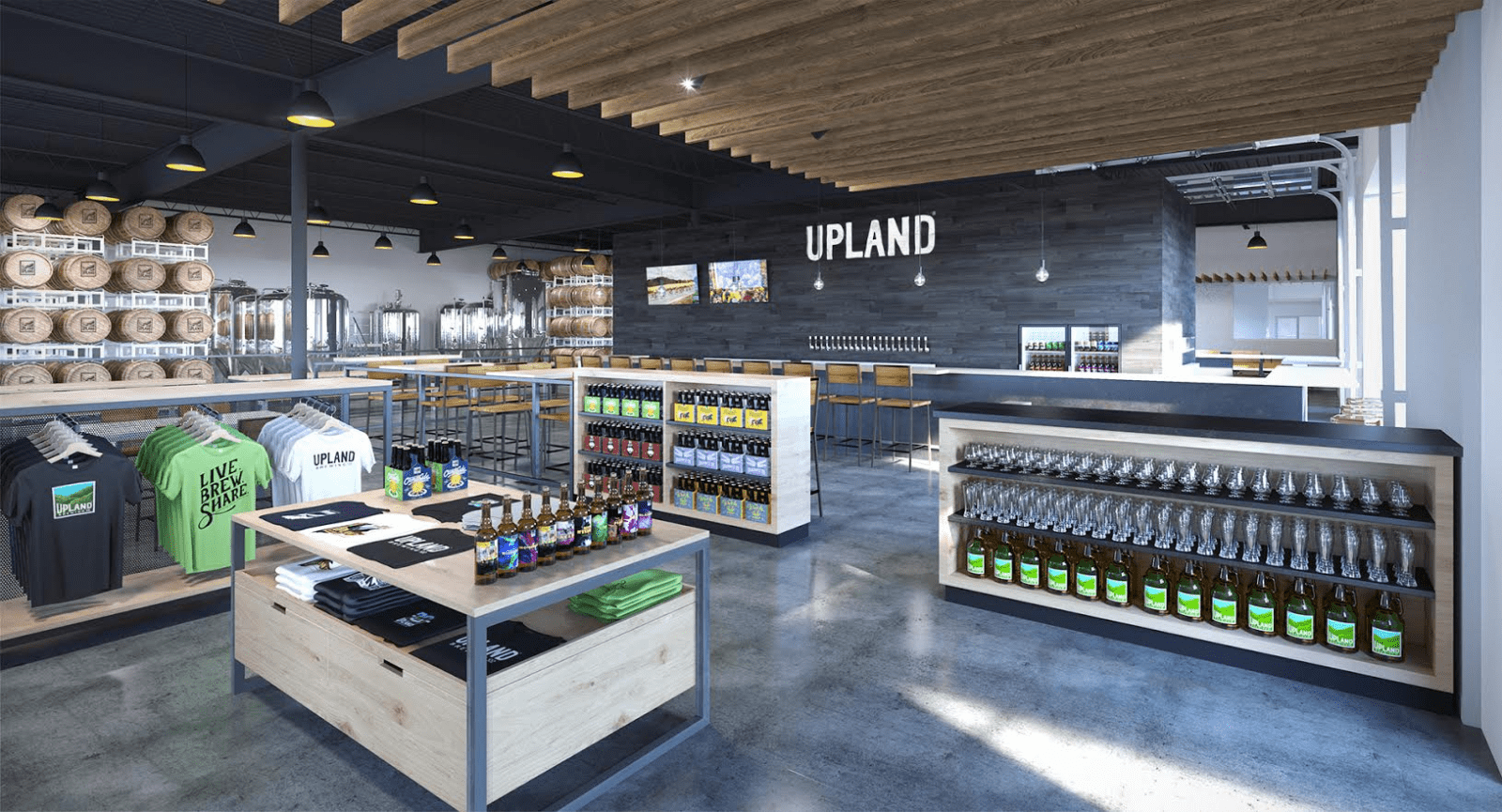 We're thrilled to announce a new brewery and restaurant concept in the beloved Fountain Square neighborhood of Indianapolis. An area rich with hoosier history, a vibrant music & art scene and an ever-growing community of small businesses, Fountain Square is a perfect fit for Upland's culture & values. "The space felt like home the moment we found it — surrounded by art, music, history, and quick access to the cultural trail for cycling around the city." said David Bower, Upland Chief Growth Officer
The new Upland Brewing Co FSQ location will be located at 1201 E Prospect St. and feature on-site brewing & barrel-aging, a full-service restaurant, and a unique partnership with Gray Goat Bicycle Company. "We are really excited to embark on this next adventure. We wanted to put down roots in a community where we could draw inspiration and give back in equal measure, and what better place than this creative hub of Indianapolis." said Pete Batule, Upland President & COO
Innovation and Sustainability are fundamental values for Upland Brewing Co.
The new 13,000 square foot brewery will feature an immersive interior beer hall experience, a huge outdoor beer garden, an open kitchen, and an on-site brewery focused on innovation and barrel aging. "Expanding our brewing operations to Indy will be a perfect complement to our Bloomington-based Wood Shop Sour Ale & West Side Production Breweries. This new site will allow us to further experiment and challenge ourselves creatively." Batule explained, "With a total of 26 lines and at least 10 barrel-aged & small batch beers on tap, we will provide our guests with front row access to our creative process."
The innovation and creativity don't stop at the brew house. Building relationships with area artists mirrors our devotion to all things local. Whether it's an Indiana hop farmer, a Marion County woodworker, or an Indianapolis muralist, Upland believes supporting the local ownership of culture creation is a fundamental ingredient to the mission. "We're committed to making our beer and community better through creative partnerships that nourish communities." said Matthew Batty, Upland Creative Director
Bringing even more fun to the table, Upland FSQ will feature an on-site Bicycle Shop thanks to a partnership with Gray Goat Bicycle Company. The Gray Goat Bike Hub will offer a full-service repair shop, parts & accessories, and new & used bicycle sales. "Bikes & beer are a match made in heaven, and the easy access to the cultural trail makes this a perfect fit." said Brian Gootee, Owner of Gray Goat Bicycle Co.
The kitchen will feature a rotating menu of fresh, local ingredients placing Indiana's agricultural heritage on center stage. Upland Culinary Director Paddy Cullen explained, "In addition to hearty smoked meats, healthy vegetarian options will be plentiful. I'm especially excited to collaborate with the brewers on our pickling & preserve program." A large, 225-seat beer hall will comfortably accommodate groups both large and small. Ample bar & patio seating and a full array of Upland draft beer options will keep the party going long past sunset.
Property for the new Upland site is being leased from Milhaus. Greg Martin, principal and vice president of asset management, says, "This is a great win not only for Upland, but also for Milhaus. We're excited about the opportunity to revitalize this space and add additional value to an already stellar neighborhood. Upland Brewing Company and the partnership with Gray Goat will provide the community with a unique space for entertainment and socialization."  
Design and build partners include Kort Construction & DKGR Architects. Grand opening is August 1st at 11 am. Cheers!